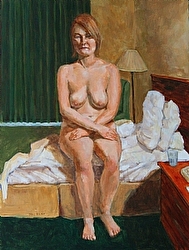 This was a 6 hour pose with Jenny as the model. I didn't know what to do with the background and thought about it for a couple of weeks. Something Abstract? Just a dark or gray background? Something sketchy? ... nothing seemed quite right. Finally, I was in a motel on a Denver visit and I realized, "why not paint this hotel room?" So I did. Then I made her eyes look sleepy and put her on the road. Finding a context for nude drawings and paintings is sometimes a challange.
Comment on or Share this Article >>
Beginning artists say, "I can't draw a straight line" and such things. They think that their aptitude for art is indicated by their ability to draw (or lack of it). This wrong belief discourages many beginners so I'd like to set this notion straight. Drawing is not art. Drawing is a mechanical skill that anyone with ordinary hand-eye coordination can master. The ability to write a paragraph of text on an unruled sheet of paper takes far more hand-eye coordination than drawing does. So if you can write a paragraph you can learn to draw.

If you write something that moves people - that is art. Not the writing, but the content of what is written. Similarly, if you draw something that moves some people in some way then you are an artist. But drawing itself is just a mechanical skill. In the old days if you came out west on a wagon train and wanted to write folks back home about a barn raising or a newborn calf you had to illustrate the letter yourself. The reason you can write a paragraph is that someone made you do it over and over until you got it right. They used to teach drawing the same way and all of the school children learned basic drawing skills.

So don't get down on yourself if you have trouble drawing. You can do it. It just takes patience and being pointed in the right direction. Stay tuned and we'll discuss what drawing is all about.
Comment on or Share this Article >>
I'm just setting up my website but I hope to keep up a journal on my activities and helpful tips for aspiring artists. I'd be happy to hear from you.

Comment on or Share this Article >>